We're Passionate About Pasta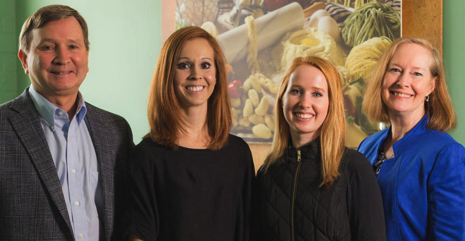 When Richard and Simone Drake opened a gift on their wedding day, they never imagined that it would inspire one of America's fastest-growing Italian gourmet pasta brands.
Richard, Sarah, Christina and Simone Drake are passionate about serving the best, all-natural frozen pasta. See how Parla Pasta is made and meet the Drake family in the video below:
See how Parla Pasta is made and meet the Drake family now.
Read more about our commitment to quality pasta!
"It was a simple pasta machine as a wedding gift that got it all started," says Richard, who began his career as a certified public accountant for a luxury yacht builder. "Simone was working at a bank. We got pretty good at making our own pasta with that little machine and started sharing some of our pasta noodles with our friends."
"We purchased a little dilapidated house as an investment," Richard continues. "We fixed it up together and sold that little house in 1985. We made a $15,000 profit and turned around and bought an industrial-grade pasta maker for $14,750, and we followed our passion to build a business. It's a real American dream story from there."
Peddling their pasta noodles to restaurants in the High Point, Greensboro and Winston-Salem, NC, Drake's Fresh Pasta Company slowly grew in size as Richard and Simone also built a family of two children who grew up amid sacks of durum wheat on their way to becoming working members of a growing food company.
"We've been fortunate to build a business with faithful employees who share our belief in operating a company that will never compromise on quality," Simone explains. In 2016 they launched Parla, their Italian-inspired brand for consumers that literally translates to "speaks" from the Italian language.
Unlike competitors who view frozen stuffed pasta as just another product, Richard and Simone maintained their commitment to using quality ingredients and no preservatives for their new consumer brand.
"We do not use any precooked or further-processed ingredients. We bring in fresh vegetables, meats and herbs, cook and hand chop them to create the perfect taste and texture for each product. From the cage-free eggs to imported Italian cheeses and wild-caught lobster, we focus on serving up the very best ingredients we can find," says Richard. "We know that in a time when food manufacturers compromise quality for the sake of profit, there are families who want to feel good about the food they eat."
"Some consumers shy away from the freezer case when they shop in favor of refrigerated products because they believe that refrigerated pasta is fresher," Richard explains. "Yet, refrigerated pasta is many days old and preserved by injecting nitrogen into the package that renders inferior quality when it's cooked. Our pasta is flash frozen within minutes of coming from our kitchen. It has zero preservatives and all-natural ingredients. When cooked, Parla Pasta is just as fresh as if we'd made it for you in your kitchen."
"We hear from consumers who thank us for bringing their families together around the dinner table with an elegant meal that tastes like they spent hours in making their own stuffed pasta," Simone explains. "I reply that it's from our family to yours."
The Drake's company is even more a family affair since their daughters, Sarah and Christina, joined the company, serving in roles as varied as accounting to human resources and marketing. They join about 50 employees who take pride in being part of a family-owned business with a passion for quality over profit.
Richard's focus is now on fueling the manufacturing line to keep pace with growth while Simone takes the lead in sales. "Our challenge is building awareness for our retail brand, Parla Pasta, across the country," says Richard.
Retailers such as Publix, Harris-Teeter, Fresh Market and Lowe's Foods helped launch the brand. "Our retail partners have embraced the quality we offer and the fact that our packages contain nearly twice the amount of quality pasta than competitors," says Simone.
Visit Drake's Fresh Pasta plant in High Point, NC and the first thing you will see is that little pasta machine that was a wedding gift for Richard and Simone. Today, it belies that beyond the entrance, a bustling manufacturing operation has taken their passion for great-tasting pasta to an industrial scale. Their Parla Pasta brand truly "speaks" to their passion.